Scroll down to find the class that best fits your needs:
Please note: Compression-only CPR — though nearly as effective as traditional CPR, in the short-term — is only to be used on adults. It's not effective on children, nor is it effective on infants. See notes below about other limitations.
Also note: There are currently three variations of how to receive this training: 1) in-person; 2) "blended learning" (mostly, but not entirely, online); and 3) online-only.
Since this course is a not-for-certification class, it may be taken with or without hands-on training. However, to be ready for a real emergency, the in-person portion is highly recommended.
---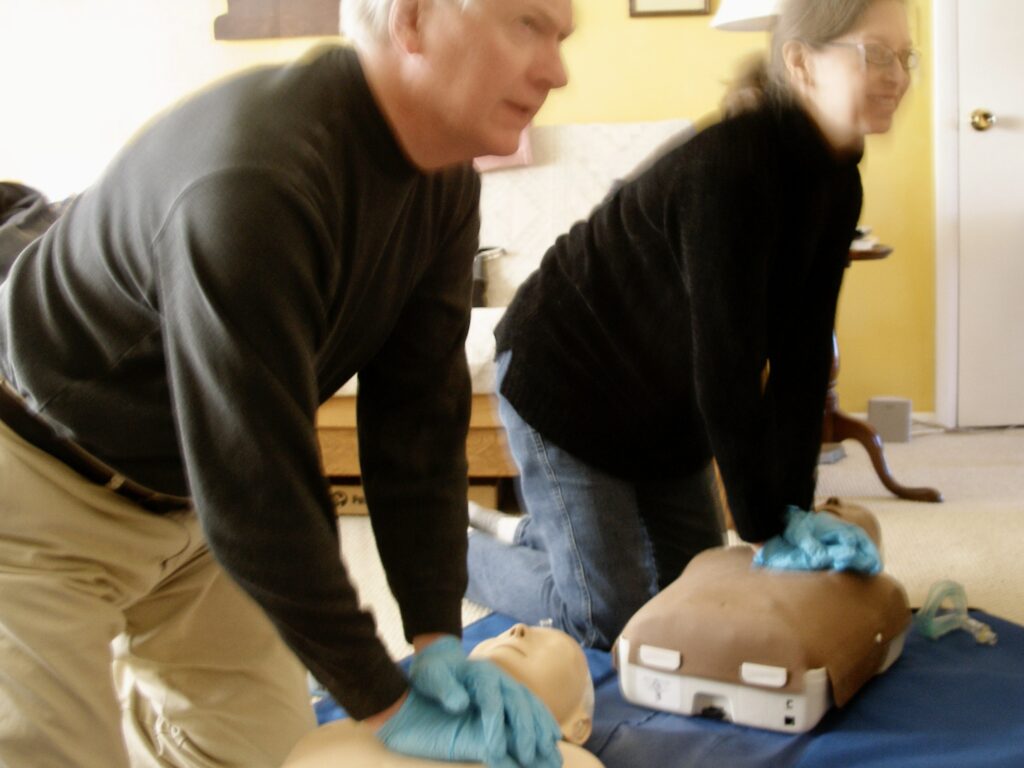 ---
Hands-Only CPR/Compression-Only CPR

(online-only 1.25 hrs.)
continuous compression CPR/CPR without breaths
no certification
Group Rate: $29 per person (six person minimum)
---
Hands-Only CPR/Compression-Only CPR

(in-person or blended-learning 1.5 – 2 hrs., depending on number of students)
continuous compression CPR/CPR without breaths
no certification
Group Rate: $39 per person (six person minimum)
---
Class Size
The prices listed listed on this page are for a minimum of six students per class. To maintain our high standards for exceptional personal attention, we limit our CPR/AED (cardiopulmonary resuscitation/automated external defibrillator) classes to a maximum of 10 students.
---
---
---
Definitions of Adult, Child and Infant
To ensure that you get the proper training for the populations of greatest concern to you, please read these definitions:
An "adult" is considered to be someone approximately 12 years or older (or beginning at the first signs of puberty).
A "child" is considered to be someone approximately 1 up to 12 years old.
An "infant" is considered to be someone younger than 1 year old.
Combined "Child and Infant CPR" classes are also known as "Pediatric CPR" classes.
---
Click to learn more about: What is Hands-Only CPR / Compression-Only CPR / Continuous Compression CPR?
This is a very simple, abbreviated CPR class. It teaches a technique called "hands-only," "compression-only," or "continuous compression" CPR. (There are several names for CPR without breaths, but they're all the same.)
To be clear, hands-only CPR should not be used on:
unwitnessed cardiac arrest victims of any age;
children or infants (see definitions below) in cardiac arrest, witnessed or not;
choking victims, drowning victims, drug overdose victims or anyone else who went into cardiac arrest due to lack of oxygen.
That said, some care is better than no care at all. And, especially for a witnessed cardiac arrest in an adult victim, it is nearly as effective as conventional CPR (meaning both compressions and breaths). So for those people not willing or able to take a conventional CPR class, this is a great option!
This class covers the basics of how to recognize a medical emergency and what to do until help arrives. We will discuss the Good Samaritan Law, as well as how to protect yourself from disease transmission while giving first aid care. And, of course, you will have hands-on practice with a manikin, learning to provide continuous chest compressions — without any mouth-to-mouth or mouth-to-mask contact — for an adult victim of sudden cardiac arrest.
Although this class is based on information taught in CPR-Twin Cities, American Red Cross and American Heart Association classes, this is an abbreviated class. Therefore there is no certification. As with all classes, we recommend that you read class descriptions and check with your employer, school, professional organization before registering, so you're certain that this class will meet their specific requirements.
---
Wondering why you should take Hands-Only CPR? Don't take our word for it. Here is what the prestigious Mayo Clinic has to say about it. (Link will open in a new page, so you don't lose your place on the CPR-Twin Cities site.)
---
*All prices are subject to change without notice.