Scroll down to find the class that best fits your needs:
There are currently two options of how to receive this training:
"blended-learning" classes are:

eligible for certification at no additional cost.
conducted mostly, but not entirely, online (with the hands-on, in-person portion being held — by appointment only — in the home office of CPR-Twin Cities (in the Highland Park neighborhood of Saint Paul, MN).

"online-only" classes:

have no hands-on practice.
are not eligible for certification.
---
For both "blended-learning" and "online-only" classes, you will need:
a reliable, high-speed WiFi connection.
at minimum, a tablet (like an iPad® or its Android equivalent).

A full-size computer would be even better. But, to be perfectly clear, a mobile phone screen will be too small to be able read the slides and view the demonstrations clearly.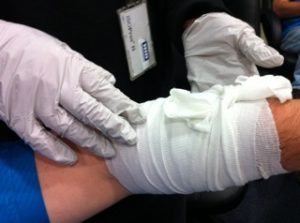 ---
First Aid for the General Public

(blended-learning)

4 hrs.
Individual Rate: $74 per person


---
First Aid for the General Public

(online-only)

3 hrs.
no

certification and no hands-on practice
Individual Rate: $59 per person


---
In our First Aid class, we will cover the basics of how to recognize a medical emergency and what to do until help arrives. We will discuss the Good Samaritan Law, as well as how to protect yourself from disease transmission while giving first aid care.
In addition to these subjects, we will discuss how to recognize and what care to provide for a wide variety of injuries and sudden illnesses:
strokes
seizures
poisonings
allergic reactions
diabetic emergencies
heat/cold emergencies
burns
bleeding
fractures/dislocations
concussions
spinal injuries
---
Please read class descriptions and check with your employer, school or professional organization before registering, so you're certain that this class will meet their specific requirements. This CPR-Twin Cities class does not include CPR/AED, but combination classes are available. (Click here to sign up for a money-saving CPR/AED/First Aid combo class instead.)
---
---
Want a quick review of First Aid care? Here you can download a free app, brought to you by the American Red Cross, for your iPhone or Android device. (Link will open in a new page, so you don't lose your place on the CPR-Twin Cities site.)
---
*All prices are subject to change without notice.